Classic Radio's zelf samenstellen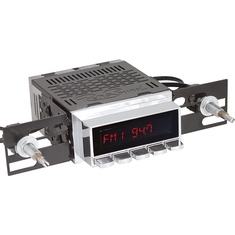 Zelf je radio samenstellen:
Retrosound radio's combineren moderne techniek met een klassiek uiterlijk.
De Classic Radio's radio's zijn leverbaar met 5 verschillende display's, vele ombouwranden, cq. Afdekplaten en knoppen (combinaties) zodat er voor nagenoeg elke merk/model klassieke auto, van zowel Europees als Amerikaans fabrikaat, een geschikte combinatie samen te stellen is.
Je kunt hier de gewenste radio samenstellen:
Kies het model radio: Laguna; Santa Barbara; Classic Radio Motor-1 of Classic Radio Motor-6 met het gewenste display.
Vervolgens kun je kiezen voor een kit speciaal voor jouw merk/model auto in de "Auto Specifieke Kits" of zelf een kit samenstellen met de keuze uit de afdekplaten of montageranden en de vele knop combinaties.
In onderstaande tabel staan de specificaties van de radio's: